Item Specifications
Test Format:

Cassette

Specimen:

Whole Blood/Serum/Plasma

Expiry date:

24 Months

Function:

Rapid test

Storage:

2-30 centigrade

Certificate:

CE
Product Description
CE Certificate IVD Cardiac marker CK-MB Rapid test kit Creative kinase-MB Test cassette
Intended Use
CK-MB is one of the most important myocardial markers, with well-established roles in confirming acute
myocardial infarction (AMI) and in monitoring reperfusion during thrombolytic therapy following AMI.
Test Principle
The Rapid Test is based on the principle of double antibody sandwich immunoassay for the qualitative detection
of CK-MB in human serum or plasma. When specimen is added to sample pad, it moves through the conjugate
pad and mobilizes gold CK-MB conjugate that is coated on the conjugate pad. The mixture moves along
the membrane by capillary action and reacts with CK-MB antibody that is coated on the test region.
The sensitivity can reach to 5ng/ml.
Main components
Sample pad, colloidal gold marked pad, nitrocellulose membrane, absorbent paper and PVC board.
Specimen requirement
1. Collect venous blood into container without anticoagulant according to the standard method.
Separate serum or plasma for testing.
2. If the specimen cannot be tested on the day of collection, store the test specimen in a refrigerator or freezer.
3. Bring the specimen to room temperature before testing. Do not freeze and thaw the specimen repeatedly.
Storage and Expiry
Store at room temperature 4-30 ℃, avoid hot and sunshine, dry place, not frozen, valid for 24months.
Test Procedure
1. Instructions must be read entirely before taking the test. Place the reagent at room temperature for
30 minutes before use to return to room temperature(20℃-30℃).Do not open the inner packaging before not ready, it must be used in one hour if opened.(Humidity: 20%~90%,Temp: 10℃-50℃)
2. Test Procedure
Cassette: Take off outer packing, using a pipette vertically drop 2 drops (about 100ul) specimen
into the sample well.
3. Wait 10-15 minutes and read result. Do not read results after 15 minutes.
Interpretation of result
Positive: Two red band appears, one in the test area (T), another in the control area(C)
Negative: Only one red band (C) appears in the detection zone, (T) without the red band appears.
Invalid: No red lines appear or quality control areas (C) appear a red band,
indicating that the operator error or reagent failure.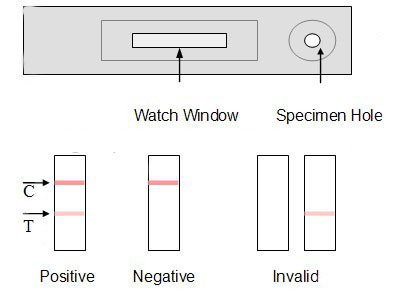 For more information ,pls fell free to contact Ms Grace as:

Email :graceqin@demedtec.com
Wechart :214626031 Skype:grace_qin.pada Whatsapp:+8613815950169
Feedback(0)